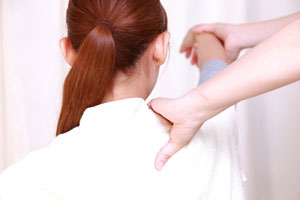 Are you seeking a different approach to treat pain that hasn't responded to physiotherapy or chiropractic? Consider RAPID NeuroFascial Reset (NFR). This neurologically based, hands-on technique can address many conditions.
Put Pain in Your Past & More
From sciatica and back pain to migraines and whiplash, many painful conditions can be effectively resolved with RAPID. We also have had success in addressing other issues such as incontinence, TMJ Disorder, frozen shoulder and stubborn or unresponsive injuries.
In addition to offering effective pain relief, RAPID can help to strengthen your core.
How Does It Work?
The technique activates substance P, a natural chemical that decreases inflammation in the body and causes a pain-reducing reaction. Malina, one of our registered massage therapists, has specialized training in RAPID. She has training in upper RAPID, lower RAPID and RAPID core. You may be in a seated or lying down position, depending on the area being addressed. To provide the treatment, Malina takes a thorough history and examination before combining hands-on palpation with active movements by the patient.
A Drug-Free Approach
Given the opioid epidemic in the world today, many people are seeking natural ways to address their pain. RAPID is entirely natural and has been used to relieve many painful conditions.
Enjoy Your Life
With RAPID, you can get back to your golf game, play with your grandchildren, return to your workouts at the gym and more. In short, you can enjoy a higher quality of life as you won't be plagued by pain.
Are you wondering if RAPID NeuroFascial Reset is right for you? Contact us today to book a consultation with Malina!