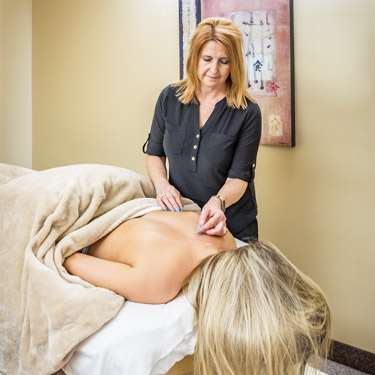 Acupuncture Saskatoon
Acupuncture is an ancient healing art dating back 5000 years that involves needles being carefully inserted at specific points in your body to combat injury and disease, as well as strengthen the body's immune system.
How Acupuncture Works
The premise of Oriental medicine is that Chi, or energy, circulates through specific pathways in the body. If there is balance, the energy flows smoothly (as it should) and you are healthy. If an imbalance is present, blockages arise along the pathway, which creates illness. Precise placement of acupuncture needles releases blockages, allowing energy to flow freely through the body, thus restoring health.
Acupuncture points stimulate the Central Nervous System which releases biochemicals into the muscles, spinal cord and brain. Biochemicals are responsible for many functions in the body; including our metabolism and breathing, therefore by releasing these biochemicals, the body's ability to heal itself is enhanced.
Acupuncture also stimulates the release of endorphins; which are the body's natural pain-relieving neurohormones. Through the release of biochemicals and endorphins, this time-proven therapy improves functioning of the endocrine system, promotes a decrease in inflammation, increases circulation and relieves pain.
The many conditions that acupuncture commonly addresses include;
Tennis elbow
Frozen Shoulder Syndrome
Arthritis
Quitting smoking
Anxiety
Insomnia
Labour induction
PMS
What to Expect
When you arrive for your first acupuncture appointment you will begin by filling out our new patient paperwork and sign a consent form. Once that is complete, the acupuncturist will greet you and take you downstairs to her treatment room where she will discuss your intake information. She will then determine where to insert the needles in order to give you the results you're looking for. Once the needles are inserted, they will remain in place for approximately 25 minutes.
After the appointment, you will discuss the recommended treatment plan to work toward reaching your desired goal. The number of acupuncture sessions you will need depends on your unique situation. A minor injury may need only a few visits; chronic problems require more. After the treatment plan has been discussed, the appointment will then be finished and you'll head back upstairs to the front desk to book your next appointment!
Acupuncture has helped with my headaches.

Knowledgeable staff. Always professional.

First visit ever for acupuncture! Valerie made it so easy.

The level of care and thoroughness has helped get my back up to 100%

Dr. Stuckel is a caring individual and I like his style of treatments.

Glad that I received fast attention to the problems I had – great service!

Was in a car accident in the winter and the recovery process was cut in half because of chiro, massage, and acupuncture!

Clinic is really clean! Staff are so friendly + accommodating and professional.

I quit smoking and I can enjoy jogging and running.

They gave me better mobility and helped me manage my pain while recovering from an injury.
Frequently Asked Questions
Most of our patients find acupuncture sessions to be relaxing. The needles used are very thin, and most of the time, you won't even feel them being inserted. Some patients occasionally feel a mosquito-type sting for only a second.
During your initial appointment our acupuncturist will evaluate your condition and history to determine the number of treatments required. Each treatment plan is different from the next because every patients needs are unique. As a general guideline, acute injuries require fewer treatments than long-term chronic issues, but with each injury we aim to achieve and optimize results as quickly as possible.
Acupuncture has been around for thousands of years and treats a multitude of ailments; including neck and back pain, migraines, headaches, plantar fasciitis, pelvic discomfort, sciatic nerve pain, tennis elbow; and even quitting smoking. Acupuncture is a good alternative for people who aren't getting the results they want from other therapies and are experiencing unwanted side effects from more invasive treatments.
Absolutely! In fact, we encourage our patients to combine chiropractic and massage therapy into their lifestyle, to enhance their results on the journey to natural wellness.
When you think of needles being inserted into the body, you may think that discomfort is involved. Surprisingly, acupuncture needles are so small, most people do not feel anything! Others say it's similar to a mosquito bite but disappears immediately. Most of our patients find acupuncture treatments to be calm, peaceful and relaxing, so much so, some of our patients even fall asleep.
Acupuncture is beneficial for healthy individuals choosing a wellness lifestyle and being proactive about their health. Acupuncture is used to relax tight muscles, improve mobility, improve sleep quality and lower stress levels and can be a welcome addition to your healthy lifestyle.
Check our our blog, Acupuncture in Canada: Coverage, Benefits, and Treatable Conditions, for more information.
Schedule Your Visit Today
Find out more about the healing through acupuncture at our office in Saskatoon. Contact our team today to schedule your appointment! We have Saturday visits available and plenty of free parking on-site.
CONTACT US »

Acupuncture Saskatoon, Sutherland SK | (306) 651-2225