Sciatica Relief in Saskatoon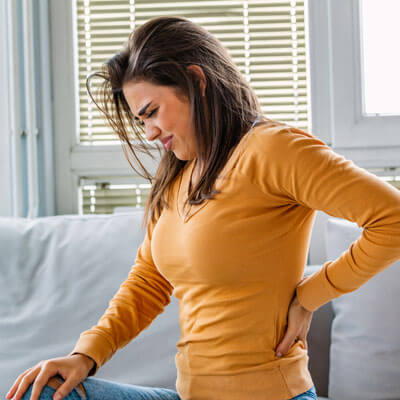 Sciatica is caused by an irritation or compression of the sciatic nerve, which will cause pain, numbness, weakness, or tingling that travels down the leg where the sciatic nerve leads. This type of nerve pain usually gets worse with periods of sitting or standing. Sciatica often affects pregnant women, people with diabetes, and obese women.
Typical Symptoms
Hip pain
A tingling or burning sensation down the leg
Weakness, numbness, or a difficult time moving the leg or foot
Continual pain that affects one side of the buttocks
A shooting pain that makes standing up uncomfortable
Our Natural Approach
Chiropractic adjustments can help alleviate sciatic pain. In addition, we offer acupuncture, massage, and stretching to relieve this type of nerve discomfort.
Frequently Asked Questions
This nerve pain is often the result of cumulative damage. For example, years of poor posture and being overweight can contribute to sciatica. Something as simple as bending over to tie your shoes can trigger an episode, and spinal deterioration is another culprit.
This type of natural care doesn't cure anything! Only your body can do that. Chiropractic helps your spine work properly, reducing nerve irritation and restoring your body's healing ability.
How many chiropractic sessions will be needed to get better?
We find that patients typically notice relief after 12-18 chiropractic treatments, or 4-6 weeks.
What One Patient Had to Say
"I have been receiving treatment from Dr. Stuckel for almost 2 years and Robert for massages this year. I can't believe I waited so long to get help with my sciatica and other pains, as they have both helped me tremendously! Office staff are also friendly and hours are convenient."
Book an Appointment
If you've been suffering from sciatica, we want to help you get relief. Contact us today to book an appointment.
CONTACT US »


Sciatica Relief Saskatoon, Sutherland SK | (306) 651-2225